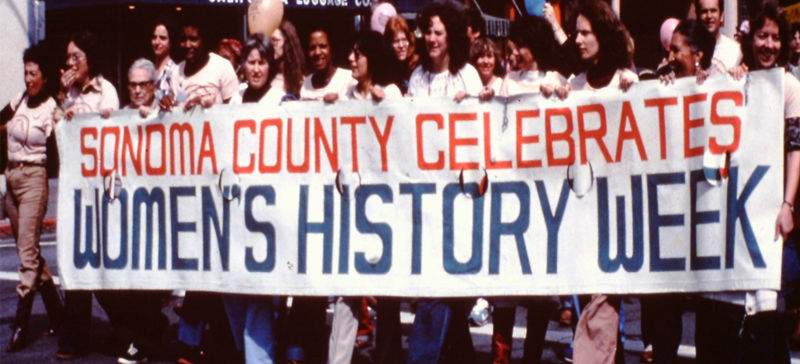 Women's History Month began as a local celebration in Santa Rosa, California. The Education Task Force of the Sonoma County (California) Commission on the Status of Women planned and executed a "Women's History Week" celebration in 1978. The organizers selected the week of March 8 to correspond with International Women's Day.  For Women's History Month 2021, the Office of Diversity, Equity and Inclusion has compiled a list of campus and local community programs and resources to engage with and tackle systemic gender inequity, while also celebrating women's contributions to the state and our campus community!
Women's & Gender Studies - Queer Lecture Series 
The Sonoma State University Department of Women's and Gender Studies presents "The Queer Lecture Series", made possible with support from the Instructionally Related Activities Fund. Lectures presented from 12:05-12:55pm on Wednesdays. For more information contact Brooke Lober at lober@sonoma.edu.
Sonoma Film Institute Presents: Coded Bias March 19th- March 21st

In Shalini Kantayya's provocative new documentary feature MIT Media Lab researcher Joy Buolamwini discovers that facial recognition technology does not see race and gender accurately. As it turns out, artificial intelligence is not neutral. What does it mean when artificial intelligence (AI) increasingly governs our liberties? And what are the consequences for the people AI is biased against? CODED BIAS explores the fallout of this discovery and weaves in the stories of an emerging generation of women working as data scientists, mathematicians and activists in the United States, the UK, South Africa and China. Together they lead the fight to protect our civil rights in the face of increasing corporate surveillance and algorithmic oppression. Drawing from stylistic sci-fi elements to visualize its concepts, CODED BIAS inspires and engages audiences to reimagine tech and civil rights around the world. Click here the week of the show for the Zoom Link.  
Womxn of Color Collective: March 17th | 12 - 1:15 PM |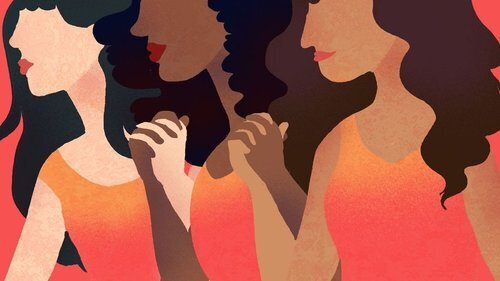 Join us for a conversation with Dr. Erica Tom, a writer, scholar, educator, and horsewoman. She has taught at Sonoma State since earning her Ph.D. in America Studies at Rutgers University-Newark in 2017. She is the Director of Native American Studies, teaches in American Multicultural Studies, and leads the Reading & Writing team for the Summer Bridge Program. A third generation Asian American, she continues to explore her mixed racial background and ethnic heritage. Email gomezs@sonoma.edu for the Zoom Link.
Counseling and Psychological Services - Womxn's (Process) Group 
March 18th | 3:00 PM - 4:00 PM |
Join with other SSU womxn to share your unique story, receive, and provide support in a confidential environment. Issues of discussion may include but are not limited to: relationship difficulties, life balance, stress management, trauma, negotiating identities, assertiveness, body image, and self-esteem. Empower yourself and each other! Please contact CAPS for more details about joining this group: 707-664-2153 or caps@sonoma.edu
Picture a Scientist - Screening and Panel Discussion
Virtual Screening: March 29th 4-6pm
Webinar Panel Discussion: March 29th 6pm
Virtual Networking Luncheon: March 30th 12-1pm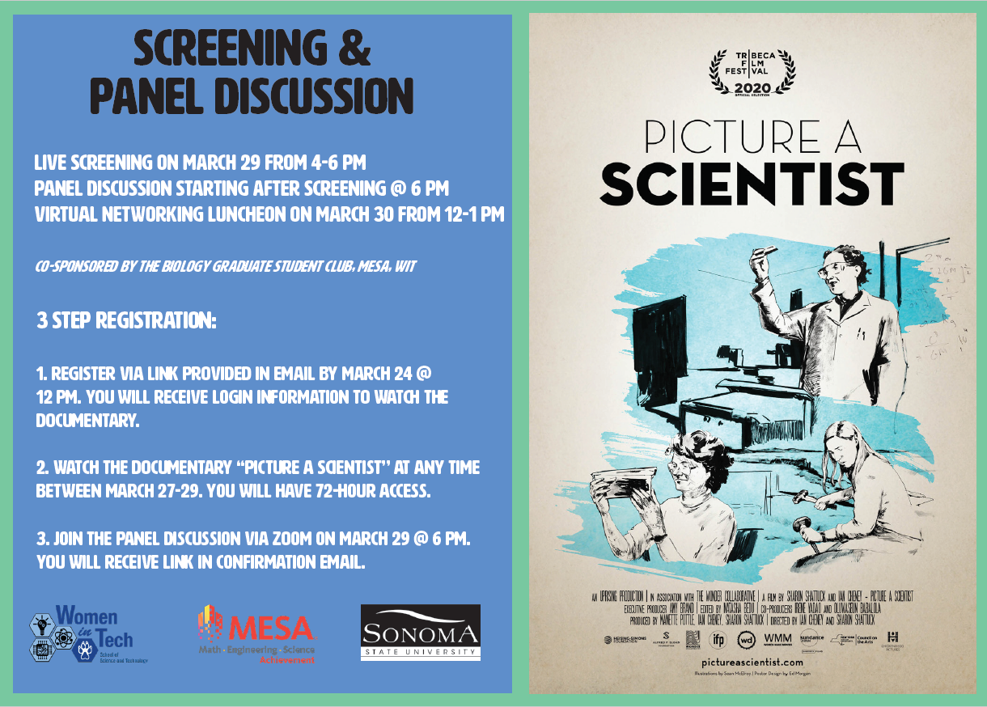 The Biology Graduate Student Club, Women in Tech, MESA, Student Involvement, and SST have partnered to bring the documentary Picture a Scientist to SSU for a virtual screening, webinar panel discussion, and virtual networking luncheon. You are invited to register for the event using this link. After you provide your information, you will be added to an email list and will be sent a link to the film when the viewing period is open. You will also receive additional links for the panel discussion and the virtual networking luncheon based on your response to the registration form. 
Sonoma County Library 
The Sonoma County Library celebrates National Women's History Month with a variety of events, displays, and resources. Check out the Sonoma County Library website to learn more. 
Women's History Month Action Hub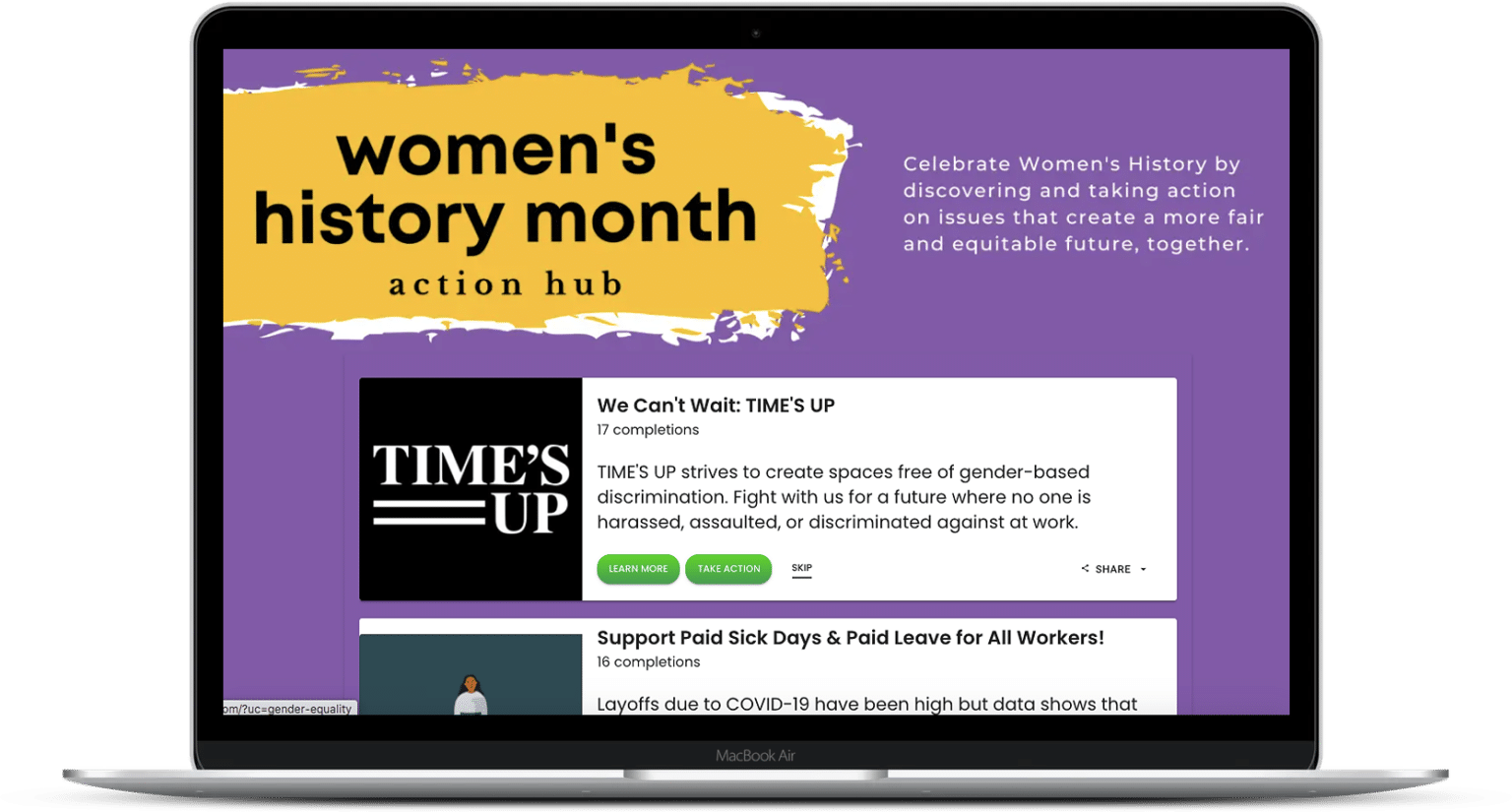 Celebrating Women's History by discovering and taking action on issues that create a more fair and equitable future, together. We have set a goal for our community to complete 1000 Actions for Gender Equity this month. Begin your action journey here, today. Together, we can all work toward a fairer, discrimination-free planet.
Community Resources